FL Keys Attractions
Key Largo
Located in the northernmost part of the Florida Keys archipelago, Key Largo is the largest of all of them, which is 33 miles long, connected to Florida City by U.S. Route 1, and one of the Keys that feature numerous recreational opportunities. Key Largo's attraction includes nature, history, and entertainment. John Pennekamp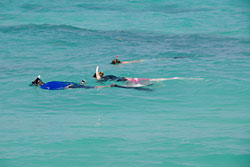 Underwater Park is in fact, the main attraction on Key Largo, comprising about 70 nautical square miles of marine life in the Atlantic Ocean, just off Mile Marker 102.5.
Lower Keys
Bahia Honda State Park
MM37, Lower Keys, 305-872-2353, 305-872-3210
Recently named one of the top ten beaches in America, the beachfront park also features a marina, dive shop, cabins and camp sites. Visitors may enjoy swimming, skin and scuba diving, fishing, boating, hiking, picnicking, cabins and camping here. The park was created by the covering of an ancient coral reef by mangroves, beaches and sand dunes. Birdlife here includes beautiful and rare species such as the white-crowned pigeon, great white heron, roseate spoonbill, reddish egret, osprey and pelican.
Coupon Bight State Aquatic Preserve
South of Big Pine Key, this aquatic preserve incudes a sheltered tropical lagoon and open ocean environments. Mangrove and saltmarsh wetlands, marine grassbeds, coral patch reefs and expansive areas of hardbottom communities distinguish this unique preserve.